Fiona is a 7-star Warrior Class card. Its card rarity is Super Rare.
Attributes at Level 1
Edit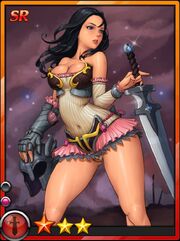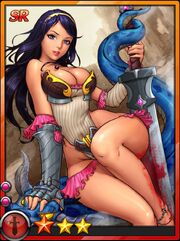 Evolution
Edit
Fiona can be combined with Fiona to get Fiona+.
Fiona+ can be fused with Immortal Totem, Knight Commander, and Lucifer to form Victorious Fiona.
Fiona is part of the Blood Bond Set.
"Unlike her sister Leona, she has joined the kingdom's knights to be the best knight. She's called 'Dulaz's Black Storm' because of her long sword's great power."- Fiona
"Fiona is the most beautiful and powerful knight in the kingdom. All fellow knights hope she will lead them to victory. She often imagines battling against Leona." - Fiona+