Lancer is a 4-star Warrior Class card. Its card rarity is Rare.
Attributes at Level 1
Edit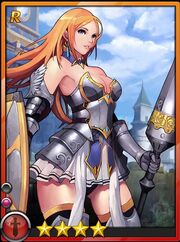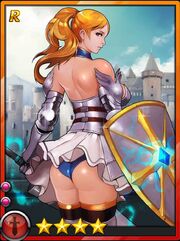 Evolution
Edit
Lancer is the result of combining Knight+++ and Spearman+++.
Lancer can be combined with Lancer to get Lancer+.
Lancer+ can be combined with Temple Knight+ to get Knight Commander.
Lancer fuses with Flag of Brikeaz, Ocamel's Feather, and Sekhmet's Heart to form Immortal Totem.
"Look at her riding a horse, wearing glowing silver armor, and swinging that long lance. Infantry units are fired up by her appearance."- Lancer
"Countless enemy soldiers are approaching. If you're not brave enought, you may retreat. I'll stay here and fight to the death!" - Lancer+